Towards Justice and our partners are pleased that the Colorado Department of Labor and Employment (CDLE) is reconsidering our state's Minimum Wage Order this year.  We are encouraging the CDLE to expand the categories of employees covered by the Minimum Wage Order and to implement a minimum salary for employees who may be exempted from overtime under the managerial/executive and administrative exemptions.
Coverage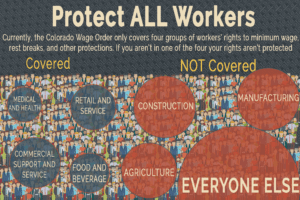 Too many workers in Colorado don't receive all the protections of Colorado wage-and-hour law. Construction workers, agricultural workers, and manufacturing workers aren't entitled to overtime under state law or state-mandated rest and meal breaks. Meanwhile, coverage categories leave workers and employers both scratching their heads as they analyse who is entitled to state law protections.  We need to clarify Minimum Wage Order coverage to protect workers and streamline compliance.  Learn more about these policy changes HERE.
Overtime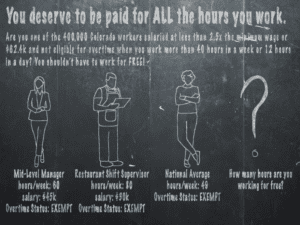 Time is precious and too many people in Colorado work long hours without overtime pay. In fact, only 8% of Colorado workers receive overtime today, compared with 62% in the 1970's. We should restore overtime pay for workers who earn less than 2.5 x the minimum wage.  By implementing a minimum salary for overtime exemption we would respect worker time and prevent a race to the bottom on worker hours.  Learn more about these policy changes HERE.
When do you work start working for free?
Are you a salaried worker who's classified as exempt from overtime? Then after October 25th, you're probably working for free. Because that's the day when the average salaried worker — who puts in 49 hours a week— has already worked full-time hours this year. If you don't get overtime pay when you work overtime hours, that means all your time for the rest of the year is effectively free for your employers.  What is your personal free time day? We built a calculator so you can figure it out!  TAKE THE QUIZ
Restore Overtime Rights in Colorado!
If you think salaried workers in Colorado ought to earn overtime pay for overtime hours, sign our petition HERE.
If you are a non-profit worker, supporter, or volunteer, help raise the bar for workplace rights throughout our sector by signing our non-profit petition HERE.
Updates to the Colorado Minimum Wage Order could improve the lives of hundreds of thousands of Colorado workers, while facilitating compliance for Colorado businesses.  Read news coverage of this issue in:
Towards Justice and Bell Policy Center statement on Trump Rule: Trump Fails to Protect Colorado Workers
The Denver Post: Colorado weighs a major overhaul on overtime rules
Colorado Public Radio: Colorado Considers Sweeping Changes To Minimum Wage And Overtime Rules
The Colorado Sun: Colorado's minimum wage rules don't apply to farm, construction and other jobs. But that might be changing.
The Colorado Sun Opinion:  Overhaul wage and hour rules to protect Coloradans' most important resource: their time
KGNU:  An interview with Nina DiSalvo – Stategic Advisor with Towards Justice regarding updating worker protections, overtime rules, the wage order rules making in Colorado