Towards Justice & Community Partners file brief with Colorado Supreme Court in support of CO Legislature's Joint Rule 44
March 24, 2020
During a State of Emergency, Colorado legislature's Joint rule 44 allows the legislative session to be conducted over 120 days instead of 120 consecutive days.  Read the filed brief HERE. 
Colorado Overtime and Minimum Pay Standards & MLK Jr. Day Blog Post
January 20, 2020
By: Jesus Loayza
The final version of the COMPS Order will be coming out soon. We are optimistic that the final rule will maintain many of the critical protections for workers that were contained within the proposed rule, and we appreciate everything the CDLE has already done to date to advance worker protections as part of this rulemaking. We also hope, however, that as the CDLE finalizes its rule and decides whether to extend more protections for farmworkers–who were largely left out of the proposed rule–the CDLE  draws inspiration from the legacy of one of the greatest champions for worker, economic, and racial justice: Dr. Martin Luther King Jr. 
Click HERE link to read about how some workers may still be left behind in the new COMPS Order.
Towards Justice invites You to Just Wages!
Come hang with us to celebrate a year of victories for workers who continue to fight for more power and fairer treatment, even in the face of tremendous fear. There will be food, drink, entertainment, and of course, our annual celebration of two Wage Justice Champions for their tremendous achievements fighting for justice for workers.
CONGRATULATIONS to the 2019 Wage Justice Champions! 
Each year, Towards Justice recognizes extraordinary leadership in the fight for workplace justice with two Wage Justice Champion Awards.  This year, we recognize Jenifer Rodriguez, managing attorney of Colorado Legal Service's Migrant Farmworker Division (MFWD) and Boulder District Attorney Michael Dougherty.  Read the press releases here and here for more information on our Champions. Please join us at Just Wages to help us celebrate these tremendous leaders.
When: Thursday, December 5, 2019
Where: Space Annex Gallery (95 S. Cherokee Street, Denver)
Time: Doors @ 5:30; Programming @ 6:30
Parking: Free parking after 5:30pm in the Bayaud Enterprises Lot (333 W. Bayaud Ave., Denver) next to the Space Annex Gallery.  Follow the parking signs when you arrive.
Thank You to Our Sponsors!
Wage Justice Hero

Wage Justice Defenders


Wage Justice Advocates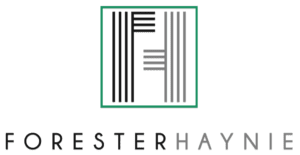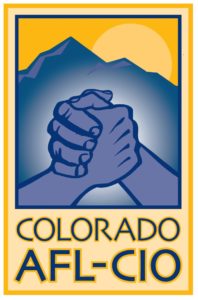 Former Detainees Challenge Forced Labor Practices
December 3, 2019: Yesterday, three former civil detainees of Lackawanna County, Pennsylvania filed a proposed class action complaint alleging that the County, the private company that owns and operates the Lackawanna County Recycling Center, and other private and public defendants forced hundreds of child support debtors in Lackawanna County to work at the Recycling Center for $5.00 per day under atrocious conditions. The Plaintiffs are represented by Towards Justice, along with its co-counsel Community Justice Project ("CJP") and Handley Farah & Anderson ("HFA").  Read the press release here.
Mid-Level Attorney Opportunity at Towards Justice
Towards Justice seeks a mid-level attorney to join our team in Denver and expand our capacity to empower low-wage workers to navigate rapidly changing employment relationships, avoid forced arbitration, combat collusion, escape forced labor, and recover stolen wages. The successful candidate will have experience in complex litigation efforts and can expect to engage in fact investigations, spot issues, develop creative legal strategies, and manage positive client and co-counsel relationships. The ideal candidate would have three to seven years of experience litigating complex civil actions in federal court, a passion for serving low-wage and immigrant workers, the ability to work independently, and the ability to think strategically and creatively about law and policy. Spanish language capacity and experience working with marginalized communities are preferred.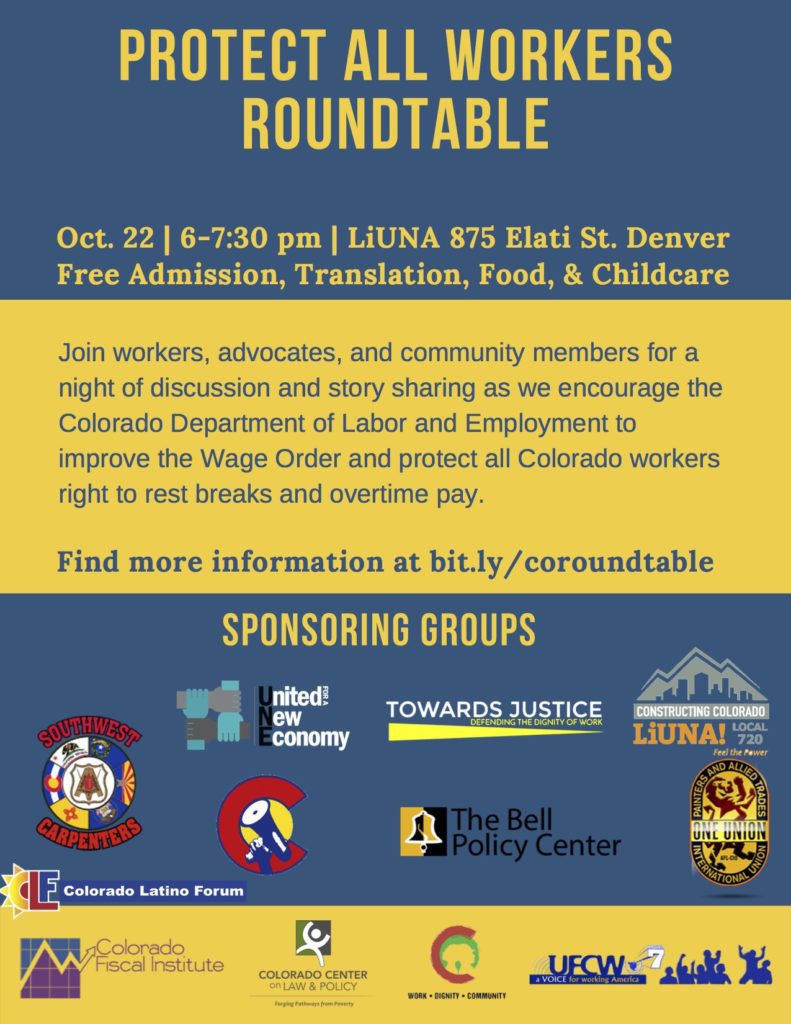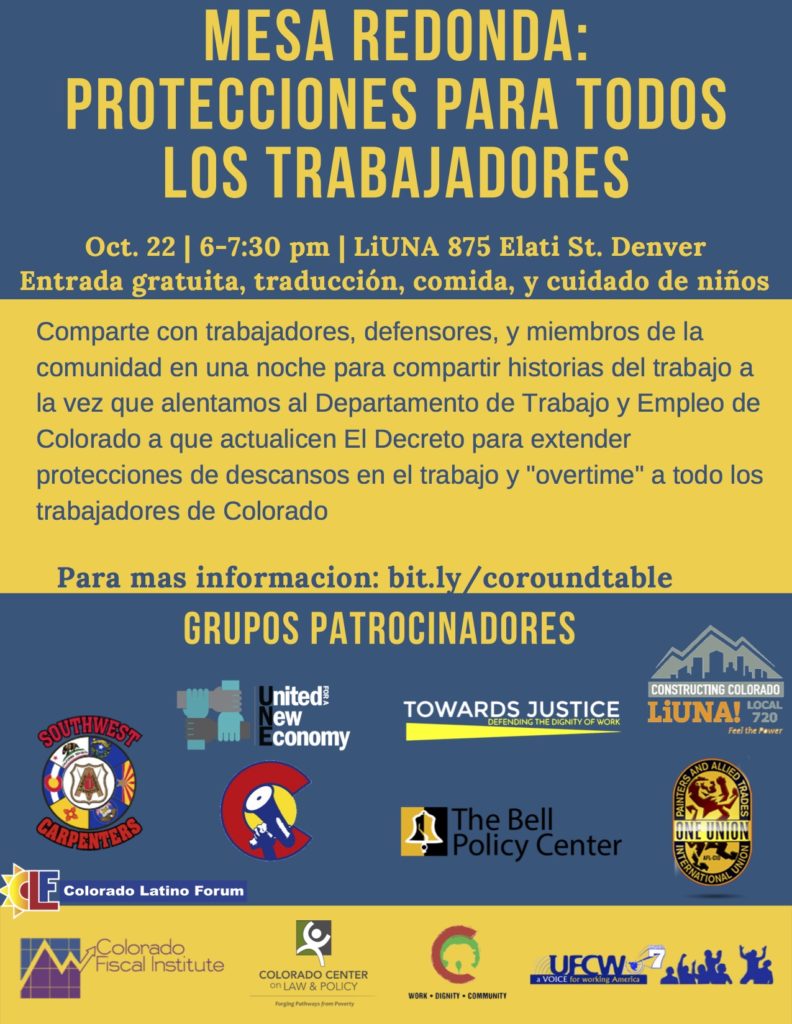 Tuesday, October 22, 2019 at 6:00 PM – 8:00 PM MDT
Worker Roundtable on Colorado Minimum Wage Order
Join workers, advocates, and community members for a night of discussion and story sharing as we encourage the Colorado Department of Labor and Employment to edit and improve the Wage Order and protect all Colorado workers.
Today in Colorado, many workers can go entire workdays without being guaranteed a legal break. Managers in all industries can legally be worked well over 60-70 hours a week without being paid overtime. Depending on what industry you work in, some workers like agriculture workers on small farms, are not entitled to receive the state minimum wage.
Right now, the Colorado Department of Labor and Employment (CDLE) is considering changes to the Colorado Minimum Wage Order ("Wage Order") that could address many of the gaps in worker protections. We believe ALL workers like construction, agriculture, and managers in fast-food restaurants, retail stores, and non-profits deserve workplace protections.
Food and childcare will be provided.
Location: LiUNA Local 720, 875 Elati Street Denver, CO 80204 United States